Place cursor on each photo to have text, use thumbnails to enlarge photos
Tapeworm Mosgovoiya pectinata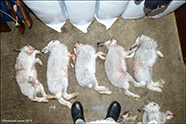 The first time I saw a hare tapeworm was when I got one from Jákup Absalonsen, Viðareiði. It came from a hare that he had shot on 02.12.2006. Subsequently, I also saw tapeworms in shot hares on Nólsoy and other places in the Faroe Islands.
---
Article from Tim Ecott in The Telegraph about tourism in the Faroe Islands
"Could this unspoilt archipelago become an unlikely overtourism battleground?"
Read the article

---
M

essage in a bottle

from Newfoundland and Labrador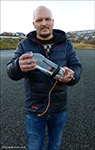 06.11.2018 at 09.45 Hans Eli Sivertsen found this message in a bottle, from Curt Chambers from Brig Bay, Newfoundland and Labrador, who dropped it from a fishing boat sometime in mid July 2018. It has taken the bottle about 4 months to travel the 3100 kilometers across the Atlantic from Newfoundland and Labrador to Leynar, Faroe Islands.
This type of plastic bottles floats on the water surface, so the wind has also helped it forward.
Detonation wires floats just below the water surface, so they do not move alone with wind; but there is no doubt, that a large part of the detonation wires, dumped in the Faroe Islands in the last 2 years, will wash upon the shores in other countries.
Read about Brig Bay

---
Squid Sepia
3 Calcium shells from the Squid genus Sepia is found in the Faroe Islands, and Hans Eli Sivertsen has found all of them.
May 2, 2018 he found the first shell in Leynar, the following day he found one in Kaldbak, and three days later he found another in Leynar. We presume, that these Calcium shells belong to the Squid species Sepia officinalis, a species with 10 arms. It is common in the Mediterranean and the northeastern part of the Atlantic Ocean, where it appears up to Norway. As other squids it has blue blood, which previously was used as ink. Among other the shell is used for Calcium supplement for cage birds.
We are not aware of any previous findings - even they are flowing, so we would like to hear from others, if they have knowledge of any findings.
Update 12.05.2018: In the last 6 days Hans Eli Sivertsen has found another 5 Calcium shells.
Furthermore Hanna Joensen from Sandoy found 6 shells, when she went for a walk on the beach in Sandur today.
Update 13.05.2018: Hans Eli Sivertsen has found even more Calcium shells.
Rodmund á Kelduni found 3 Calcium shells in Sandavágur and 1 in Sørvágur.
Poul Johannes Simonsen found 5 Calcium shells in

respectively

Hvannasundi, Árnafjørður and Norðagøta.
Update 02.06.2018: Maria Kristiansdóttir and Trygvi found 1 Calcium shell in Vestmanna.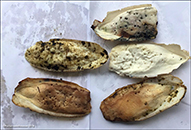 Read R. Spärck's article from 1923 about Sepia officinalis in Faroe Islands

---
Squat lobster Galathea sp.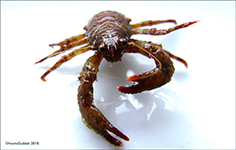 Kaldbaksfjørður 18.02.2018
---
Speckled rat Rattus norvegicus Bergenhout, 1769
Arngrím Petersen shot this speckled rat in Kollafjørður 24.10.2017.
---
Heart orchin Echinocardium
The Heart orchin has the mouth and rectum opening on the underside
---
Sea orchin Echinoidea
The Sea orchin has the mouth on the underside and the rectum opening on the upper side
---
Orange roughy
Hoplostethus atlanticus
Length 58 cm, weight 4 kg
Orange roughy is found on the Mid-Atlantic Ridge north to Greenland and Iceland, at Labrador, Nova Scotia and South Africa, in Australia and New Zealand.
It grows to 75 cm. long.
Orange roughy does not breed until it is 20 years old, and then it is about 30 cm. long. When it takes so long time before the next generation is ready to breed, it is logical, that it is very easy to eradicate it.
As an example, the Australians did not find the Orange roughy until late in the 1970's, but already in 2008 there was only 10% left of the stock, so Orange roughy was the first fish that ended up in Australia's Red List of commercial fish due to overfishing.
The oldest known Orange roughy was 149 years old.
Read more

---
RUSSIAN DOG SHOT IN KALSOY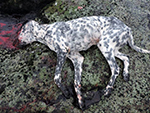 Jákup Samson shot this dog around 1 km south of Syðradal, Kalsoy 27.01.2015.
People had seen the dog for 2 days, and Jákup had tried to approach it several times; but it ran away every time. The last time he tried, the dog got stucked down by the seaside, and then it was shot. Jákup was in contact with the police all the time.
A ship pilot thought he had seen the dog on board a Russian ship.
How the dog ended up in the sea, is not known, but it was both skinny and very scared.
---
YUCCA PLANT TURNED INTO A ZOO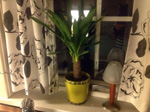 Jórun Biskopstø Simonsen bought a yucca recently, which turned out to be an entire zoo. Jórun caught several transparent worms, two species of earthworms, several Chilopodade etc. before the newly purchased plant was sent to destruction.
This incident is unfortunately far from uncommon - you think you are buying a plant, but do not know that a whole zoo of intruders goes with it, which ultimately could result in a disaster for the Faroese nature...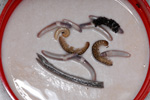 ---
Cancer pagurus
commonly known as the Edible crab or Brown crab
Mona B. Joensen and Marni Johannesen, Sandur, caught this big Brown crab Cancer pagurus on a Atlantic halibut longline west of Skúvoy late in the autumn 2013.
Update December 2015: Cancer pagurus has become more common in the Faroe Islands.
Kvennkrabbi / Female
Kallkrabbi / Male
---
ARGIR 17.06.2012
17.06.2012 some Faroese horses were placed in front of Umhvørvisstovan (The Environment Agency), to draw attention to the lack of interest in the Faroese nature by the respective authorities.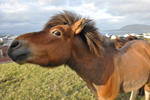 Beinta & Gráfaksi
---
HUNGRY SHEEPS
Due to bad weather the grass has not started really growing yet, so the sheep eat moss to survive. In the past it was said, that Faroe islanders died with seaweed in the mouth - I really do not hope that the year 2012 will be remembered as the year when the Faroese sheep died with moss in the mouth. The photos are from 08.06.2012.
---
FISHING IN LEIRVÍK
There is no coalfish on Nólsoy at the moment so 08.06.2012 we went Leirvík with our fishing pole, where we fished 132 coalfish in an instant. The fish was pretty skinny, but tasted incredibly well fried in the pan with with the liver and nothing else.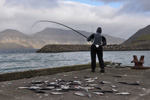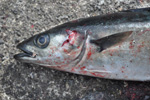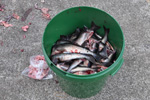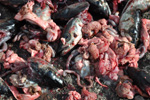 The intestines were pulled out of the fish on the spot to the delight of the seagulls
---
English abroad

---