MAMMALS

Place cursor on each photo to have text, use thumbnails to enlarge photos

BATS

Fin whale Balaenoptera physalus

The latest Fin whale was taken up at the whaling station Við Áir in October 1984 and the station closed the same year. We were so lucky to get the baleens plates of this whale. The photo shows Jens-Kjeld in the middle and Katrin Gulklett on the right.

Mikkjal Gulklett, Marita's father, wrote a diary, and you can read the very interesting description of his trip on the great whale hunt in the Antarctic in 1946-47 onboard Willem Barendsz. The article is available only in Faroese, but so far, the incredible photographs can be seen.
Willem Barendsz

---

Ambergris from Sperm whale Physeter macrocephalus

Ambergris and teeth fram Sperm whale
Sperm whale is the

largest toothed whale

Øssur Vesturstein with a lump of ambergris
Ambergris
Ambergris and a tooth from Sperm whale

---

Long-finned pilot whale Globicephala melas

Gamlarætt, Streymoy 01.06.2016

Recording

Recording 2

Recording 3

Faroe Islands Whale Watch

Long-finned pilot whale louse Isocyamus delphini 4-10 mm.

Ecology and host relationships of the whale-louse Isocyamus delphini (Amphipoda: Cyamidae) parasitizing long-finned pilot whales (Globicephala melas) off the Faroe Islands (Northeast Atlantic)

Whale Lice

---

Rat studies
Jens-Kjeld Jensen, Tina Ziska & Eyðfinn Magnussen
Eyðfinn Magnussen has collected more then 60 rats in the Faroe Islands so far. Jens-Kjeld Jensen has helped him to get hold of the rats on the condition, that he was allowed to examine them for lice and fleas.
In November 2013, all rats were tested for both bacteria and parasites. The preliminary result is that we found 71 fleas of 2 different species and a new lice species for the Faroe Islands, which probably belong to the species Polyplax spinulosa. At present, we know that a part of the fleas belong to the species Nosopsyllus fasciatus, which is only found once before in the Faroe Islands – on a cat in Fuglafjørður. There were also several fleas of the species Ctenophalmus nobilis, previously only found in Iceland, Ireland, the UK and northern France and this is the first time that this species is found and registered in the Faroe Islands.

---

Hare Lepus timidus

---

Faroe Islands Whale Watch Centre
June 6th 2013 an Orca Research Centre opened in Niels Finsensgøta 32, Tórshavn. Here you have the bossibility to see which killer whales have visited the Faroes, where they've been before and learn more about what they're doing here.
Visit the Facebook site

---

Water shrew Neomys fodiens
22. February 2013 a recently dead water shrew Neomys fodiens was found in Øravík on Suðuroy. It was located on some barriers, which should be set up between Hvalba and Nes.
It was Rene Thomsen, who found water shrew, and he made​sure, that Aksal Poulsen in Sumba got it. I got it from Aksal, when we visited him 18. May 2013. It must be the first time, that a water shrew has been found introduced in the Faroe Islands, so it was lucky, that it was dead.
Water shrews can be found in most of Europe, where it lives near water. It is an accomplished swimmer. Water shrew weighs from 15 to 23 g and it eats its own weight in food every day. It prefers insects, worms, frogs and the like.

---

Humpback Whale Megaptera novaeangliae
This humpback whale swam around in the harbour of Vágsbotnur, Tórshavn 28. and 29. January 2013.
These did all they could, to scare the Humpback Whale out of the harbor...

---

Large hares in Sumba
Saturday 03. November 2012 the men from Sumba, Suðuroy were hare hunting according Sólfinn Kjærbo. They shot 33 hares with an average weight of 3045 g. The largest hare weighed 3900 g and the smallest weighed 2000 g. 5 of the 33 hares weighed over 3500 g.
The average weight of hares on Nólsoy is about. 2700 g. if we compare, and the largest hare ever shot on Nólsoy weighed 3450 g.
Read all about hare hunting in Nólsoy

---

20 days old mouse offspring Mus domesticus
The other day, when Dánial Jespersen took some hay to feed his animals, a mouse nest fell on the ground. He has since then cared for 6 mouse offspring, which he has fed with goat's milk and Eukaneba and other delicacies. They thrive very well.

---

The difference between rat and mouse

---

Rat Rattus norvegicus Bergenhout, 1769
Speckled rat Rattus norvegicus Bergenhout, 1769

Arngrím Petersen shot this speckled rat in Kollafjørður 24.10.2017.

---

Mink Mustela vision Schreber, 1777
This mink was shot in Tórshavn 01.10.2011. It is believed to have traveled from Hirtsals in Denmark to the Faroe Islands onboard the ferry Norrøna. The shooters were excellent as you can see. So was the taxidermist, who stuffed the mink. The eye-teeth's on the mink were broken, so the mink has most likely escaped from captivity. Photographs are sent to an expert, so we are just waiting for his reply.
Wild mink does not exist in the Faroese nature, and let's hope, it stays that way!

---

Ringed seal puppy Phoca hispida seen near Suðuroy

Read article

---

Sheep eating seaweed to get salt and iodine

---

The research of the Faroese mice continues
Dr. Yingguang Frank Chan (CV) works with mice at the Max-Planck-Institut in Germany.

In one year M.Sc. Emilie Hardouin will be finished with her Phd project about mice from the Antarctic regions at the same Institute. Visit Emilie Hardouin's website

Dr. Eleanor Jones' (see below) research showed, that the Faroese house mouse is very special. On some islands they are very big, inbred and have very little variation in the DNA. Dr. Chan needed these mice in his work, so he came to the Faroe Islands together with Emilie Hardouin to catch some of these mice, which they brought back with them to Germany. There they will cross-breed them with German lab mice. Ms Hardouin will also do some research with their adaptability in hard environments as in the Faroes.

It will indeed be very interesting to see the result of this research!

I think it is a very interesting detail, that 2 mice died very fast after entering Germany because of the luxury junk diet. Many of the others mice were in poor condition as well, but after changing the diet to "Faroese proper mouse food" they recovered immediately.

---

Very interesting research called Of mice and (viking?) men

1. October 2008 we read on the news from BBC, that a very interesting article was published about how DNA from mice could prove, how people had settled up through Great Britain.

All my life I have been interested in mice - as so many other things. Late in 1970 I started to collect Faroese mice for later research. Through Dánjal Petur Højgaard I came in connection with Eleanor Jones in the autumn of 2005. She is studying at the University of York, and that's how Faroe Islands were included in this "Viking-mice-investigation".
Eyðfinn Magnussen were included as well as 2 of his pupils, which later wrote their BSc Thesis - of course about the Faroese mouse - in cooperation with the University of York.
Eleanor Jones has visited Faroe Islands, and she spent one day in Nólsoy, where I handed over my gift to this DNA investigation - 2 kilos of Faroese mice.

At the moment Eleanor is looking into the connection between the mice from among other Orkney and those from the Faroe Islands, Iceland, Greenland and New Foundland. We are of course looking very much foreward for the result of this investigation.

---

Old pregnant Grey seal dead in Nólsoy

17. September 2008 an old pregnant Grey seal crawled ashore in Hálgutoft in Nólsoy and lay down to die.
The biologist Bjarni Mikkelsen says, that he has seen seals, that were 27 years old, and their teeth were in splendid condition compared to the teeth of the poor animal on the photographs.
I estimated the age of this Grey seal to be somewhere between 30 to 40 years. I have never before seen such worn teeth on any seal.
The length of the mother was 195 cm from the tip of the nose to the end of the tail. The unborn puppy was 87 cm. long.
Update 06.03.2013: Recent studies has shown, that the seal was only 13 years old. The severe damage to the teeth is caused by illness, to hard food as shells and similar or possibly from feeding through a fish or salmon net.
Reference: Bjarni Mikkelsen

---

The hare in Nólsoy

It is very important to set out hares from the other islands to avoid inbreeding among the hares in Nólsoy. This young female hare came from Oyri in Eysturoy in 2004. She was marked with a plastic earring, so that we could recognize her, in case she was shot. We haven't heard from her yet, so hopefully she is still running around somewhere in the field in Nólsoy.

---

Stranded Grey seal puppy Halichoerus grypus

Saturday evening 29. December 2007, this starved Grey Seal puppy was seen in Stokkvík in Nólsoy. Grey seal breeds in November and December, and we estimated the age to be approximately 1 month, since the puppy still had some of the white fur. Most probably the puppy was washed out from the breeding cages for the seals during the last storm, wherafter it has been cut off from the mother. The read painting/patent on its head and body most likely comes from the net from a salmon farm.
---
Harbour porpoise Phocoena phocoena visiting Nólsoy in 2007

---
Harbour seal Phoca vitulina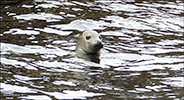 Harbour seal visiting Nólsoy in 2001
Harbour seal, Eysturoy 2013
Filmur / Recording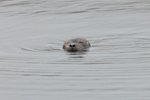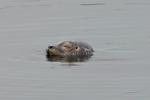 The last Harbour seal in the Faroe Islands was shot in 1844
---
Walrus Odobenus rosmarus visiting Nólsoy in 1998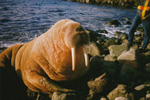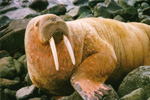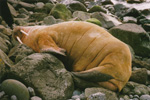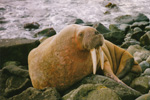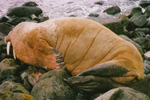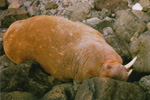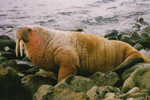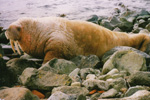 Observations of Walrus
Odobenus rosmarus
in Faroe Islands
There are 17 observations of Walrus in the Faroe Islands since about 1810. We believe, there have been 14 different animals, whereof the 3 were observed on Nólsoy.
Between 1810-1820 a Walrus was seen near the church on Nólsoy (Nolsøe, Poul 1962. Tríggjar frásøgnir. Varðin nr. 35, side 118-119). The locals first tried to kill the Walrus with an iron bar then with an harpoon. The Walrus escaped, but it is doubtful, whether it survived the visit on Nólsoy.
In about 1938 Poul Wang observed a Walrus on a small reef below "Hørg", situated East of the village on Nólsoy. The Walrus dissapeared almost immediately. It had very large teeth.
23. marts 1998 the third Walrus was observed near "Hálgutoft", situated South-East of the village on Nólsoy. The day after it was on land in Hálgutoft and it stayed in the area until 1. April, which was the last day, that it was seen.
---
Bearded seal Erignathus barbatus visiting Nólsoy in 1995

And Eysturoy in 2010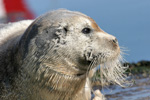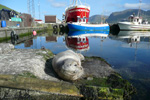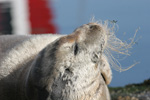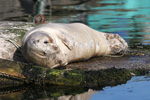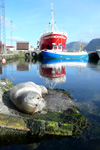 ---
Grey seal Halichoerus grypus
This Grey seal puppy Halichoerus grypus payed Nólsoy a visit in 1986
Grey seal is very colorful. The males are dark/black with various amount of white spots (some of the males on the photographs have a lot of white fur all over the body). The females are grey/silver colored on the back and they have a lighter breast with spots. The younger seals are lighter in the colour, but they can be brown - as you can see on the photographs.
These outstanding images were photographed by Margaret Holland 2015
The photographs above show the distribution and various age in a seal population: mostly young seals of various age, some few males and approximately 20-25% females.
Author: Bjarni Mikkelsen, biologist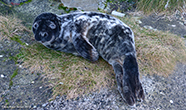 Grey seal puppy Halichoerus grypus
,
Nólsoy 23.11.2018
---
Hooded seal puppy "Blue bag" Cystophora cristata visiting Nólsoy in 1984
Copyright ©Jens-Kjeld Jensen
All Rights Reserved